Last Call: The World Beer Cup Returns; Baltimore County Offers $500K to Keep Guinness Baltimore Blonde Local
World Beer Cup Draws 10,213 Entries
More than 300 winners were honored during the Brewers Association's (BA) 2023 World Beer Cup (WBC) during Craft Brewers Conference in Nashville this week.
The beer competition received 10,213 entries across 103 style categories from 2,376 breweries in 51 countries, according to the BA. Of those breweries, 522 entered for the first time in 2023.
Prior to 2022, the WBC was a biennial event, but the BA has since changed it to an annual occasion.
The most-entered category was American-Style India Pale Ale with 412 entries, followed by Juicy or Hazy India Pale Ale (374 entries), German-Style Pilsener (233 entries), International Light Lager (220 entries) and Wood- and Barrel-Aged strong Stout (202 entries).
A list of winners and recording of the award ceremony are available online.
Officials Pledge $500K to Keep Guinness Baltimore Blonde Flowing
Guinness Baltimore Blonde – the signature offering of brewing operations at Diageo's Relay, Maryland-based production facility – has become such a local icon that one Baltimore County official wants to invest $500,000 in a local brewer to keep the beer flowing, according to the Baltimore Banner.
Baltimore County executive John Olszewski Jr. wrote a letter to Diageo VP of government relations Alden Schacher this week offering to help fund "significant infrastructure investments required for any local brewer to meet the brewing and bottling specifications associated with the production of Baltimore Blonde."
News of the facility's closure broke last month when Diageo filed a Work Adjustment and Retraining Notification (WARN) Act notice, which noted 100 employees would lose their jobs. The Guinness Open Gate Brewery, which includes a restaurant and 10-barrel innovation brewery, will remain open.
Area breweries, including Heavy Seas Beer, have offered to contract brew Baltimore Blonde to keep it in market. A Diageo spokesperson told the Baltimore Banner the company was "open to exploring potential opportunities" but that any "decision will be guided by a business case that also ensures alignment with guinness' quality standards."
Baltimore Blonde has recorded steep double-digit declines in dollar sales and volume since its 2018 introduction, according to NIQ scan data shared by Bump Williams Consulting. In 2019, its first full-year in market, the beer sold $6.375 million at off-premise retailers, more than 179,000 case equivalents. Last year, off-premise dollar sales of Baltimore Blonde reached $1.758 million (nearly 42,000 case equivalents).
Lone River Launches Yellowstone Ranch Pack
Coors Banquet isn't the only brand partnering with hit TV series Yellowstone. Diageo-owned Lone River Ranch Water announced a partnership with both the show and cast member Lainey Wilson.
Lone River is now launching a limited edition "Ranch Pack" variety 12-pack nationwide, emblazoned with the Yellowstone Ranch emblem. The pack includes six cans each of Original Ranch Water and margarita-style Ranch Rita.
The Yellowstone partnership comes on the heels of Lone River's multi-year deal with country musician Miranda Lambert.
Diageo acquired Lone River in March 2021. Katie Beal Brown founded Lone River's parent company, Far West Spirits, in 2019.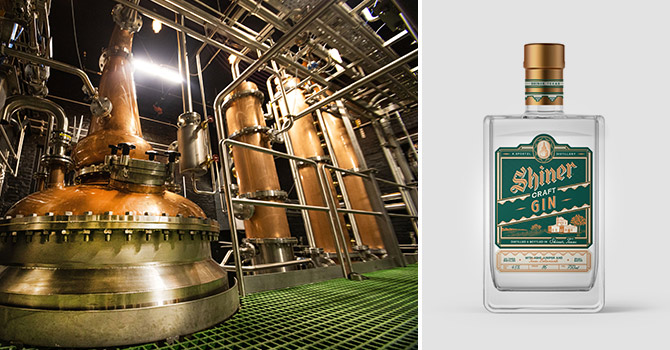 Shiner Adds Spirits to Portfolio
Shiner, Texas-based Spoetzl Brewery, maker of the Shiner beer family, has added a line of spirits, produced by new sibling brand the K. Spoetzl Distilling Company.
Under the Shiner Craft Spirits brand, the company will offer vodka, gin and moonshine produced under the supervision of master distiller Jessica Michalec. Draft cocktails are available at the company's taproom, and the distillery is slated to begin offering tours on May 29.
"We believe our brewing experience crafting award-winning beers uniquely positions us to similarly craft the highest quality spirits for the demanding spirits customer," director of brewery and distillery operations Tom Fiorenzi said in a press release. "The entire process – from grain to glass – will all be done by our team right here in Shiner; after all, great beer is the basis for great spirits."
The Gambrinus Company – the parent company of Shiner and Trumer – is the country's fifth-largest craft brewery by volume, according to the BA. Year-to-date through April 23, it was the 17th largest beer category vendor in off-premise retailers tracked by market research firm Circana, with dollar sales of $34.9 million, which marked a -9.1% decline from the same period last year.
New York's Common Roots Brewing to Acquire Assets of C.H. Evans Brewery
Two Upstate New York craft breweries have merged.
South Glens Falls-based Common Roots Brewing Company has agreed to acquire the assets of Albany-based C.H. Evans Brewery, which is located in the historic Albany Pump Station.
"We are both excited and humbled to be continuing the C.H. Evans legacy while bringing this historic building into the Common Roots family," Common Roots co-owners Christian and Bert Weber said in a press release.
C.H. Evans Brewery dates back to 1786. It operated until Prohibition began in 1920, with production peaking at 65,000 barrels in 1915, according to the release. Neil Evans resurrected his family's business in 1999.
Financial terms of the deal, which is expected to close in November, were not disclosed.
Massachusetts' Burke's Alewerks Shuttered
Five months after moving to a new location in the Boston suburbs, West Newton, Massachusetts-based Burke's Alewerks has shut down.
"We poured our last pint this past week," founder Brian Burke wrote on Facebook. "I am forever grateful for all the support, laughter, music, and friendship that we all shared together. If you walked through our doors and shared a pint with us, we are grateful."
Burke's Alewerks opened in Hanover, Massachusetts, about 25 miles south of Boston, in 2015. It moved to West Newton, about 11 miles west of Boston, in January.
Non-Alcoholic, Cannabis-Infused Seltzers to be Sold in On- and Off-Premise Retailers Across Texas
Earlier this week, cannabis operator Bayou City Hemp Company and 8th Wonder Brewery, Distillery, and Cannabis announced a partnership to develop cannabis-infused offerings to sell in bars and restaurants, as well as liquor, convenience and convenience in major Texas markets Dallas, San Antonio, Austin and Houston via Flood Distribution.
Bayou City Hemp plans to introduce "a meticulously curated portfolio of established cannabis-infused beverage brands from around the country" to Texas consumers, starting this month, according to a press release. Initial brands will include Bayou City's Howdy, the first THC-infused ranch water and paloma seltzers, as well as products from Happi, Wonder Water, Trillionaire and Lil Bit by 8th Wonder Cannabis, Good Feels, Drippy, and HoBuzz.
Bayou City Hemp and 8th Wonder, which have worked together since launching the first hemp-infused seltzer in Texas, "will formulate and manufacture these beverages," per the release.
The beverages included in the launch are infused with Delta 8 or Delta 9 THC derived from hemp and are compliant with the 2018 Federal Farm Bill and Texas HB 1325, which allowed for the legal sale and distribution throughout much of the country and across Texas.
"National trends increasingly indicate that now is the time to get into this industry," Kyle White, Flood Distribution co-founder, said in the release. "THC-infused beverages are safe, delicious, and offer clients the opportunity to be at the forefront of this industry and steer the direction it will head in the future."
New Realm Adds Contract Brewing Services
Add New Realm Brewing to the list of craft breweries offering contract production services at its facilities in Atlanta and Virginia Beach.
The company says it can produce ales, lagers, seltzers and ready-to-drink canned cocktails at those facilities after adding production capacity, with packaging options for half barrels and sixtels at both facilities and canning capabilities for 12 oz. standard and sleek, 16 oz. and 19.2 oz cans in Virginia Beach, and 12 oz and 16 oz. standard cans in Atlanta. New Realm is also offering access to its QA and brewing teams. Additional details in the link.